This weekend, I completely checked out of my life of responsibility and checked in with myself. I made my first trip to Portland, Oregon, to run the Oregon Winter Half Marathon. The race was Saturday morning at the Reserve Vineyard and Golf Club. It was an intimate race and a perfect trip!
I made these plans months ago, long before I could have anticipated how much I would need it. When I would have been giving my Fall semester finals, I traveled for a family funeral. Within 10 days, I was submitting grades and helping to host Christmas dinner. The week after that was a trip as a university representative. The week after that was the annual convention of the Modern Language Association (MLA), from which I returned on Sunday and began teaching on Tuesday. In the midst of all this travel, of course, were letters of recommendation, etc., etc., etc. By the Wednesday before I left for Portland, I had to admit that some kind of rebellion was underway. I had somehow neglected to put TWO meetings in my calendar! I still made it to the meetings, but…
I've had some great experiences by combining running with professional presentations. For example, in December 2011, I gave a lecture at Columbia University on a Friday, flew across the country on Saturday, and ran a half marathon on the Las Vegas Strip on Sunday. Similarly, in March 2014, I gave a lecture at the Library of Congress on Friday afternoon and ran a half marathon through the nation's capitol on Saturday morning. I've managed to duplicate those sorts of experiences several other times, and I found it exhilarating. But this trip taught me that it can be rejuvenating to check out of my normal life and simply be present to all that running gives me.
I arrived early Friday and got to hang out with a friend who took me to the famous Powell's Bookstore and a few other spots. Then, I had the rest of the day to lounge around my cute hotel room. The race was the next morning but not until 8am, so it wasn't a ridiculously early morning. Also, I chose a hotel that was a quick, easy drive to the race site. So, after hanging out a bit with fellow runners, I was back in my room by noon and had the rest of the day to lounge around, polish my nails, watch bad TV, write in my journal, and just be in the moment and count blessings!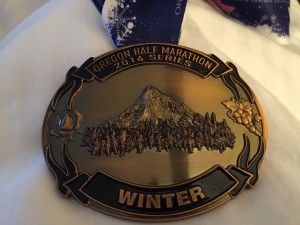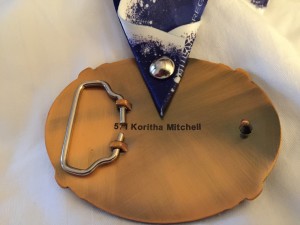 Alright, some actual race details: Portland got record amounts of rain in December and early January, so there were unavoidable puddles almost immediately. Trying to avoid them by running on the grass only got you into mud, which is even heavier, so my shoes were soaked. It felt like I was running with weights on my feet, but with temperatures in the 40s, being wet didn't translate into being cold. It rained for about half the time we were out, and I dressed perfectly for the conditions. After the race, we were served piping hot soup with great pretzel rolls! The medal doubles as a belt buckle, and they even put our names on it! I took is slow and easy, finishing in 2:24:23 or about 11 minutes per mile, and I met my goal of running the entire time.
Ultimately, this weekend was a time for checking in with myself. I looked at all that I managed to do between September and early January and was pleased to see that, for all I did for others and for other people's agendas, I never lost sight of my own. So, I made steady progress on my book manuscript and ran very consistently for 8 of the 10 weeks I was officially training for this race. I also never got sick, praise the Lord! So, I was beginning to feel out of sorts, and this weekend allowed me to see that it was the beginning of some kind of slip, but nothing had gotten truly lost. I'm now regrouping, but I'm doing so before having lost my way. (Another blessing to count!)
For the past few years, my goals have been about how I want to feel. I want to feel like I'm doing important work, but I don't want to feel awful (or vaguely miserable) while doing that work. As I often say, I'll never get in your way if you're working for a halo or a cape. I'm not trying to be anybody's saint or superhero. Increasingly, I believe that success isn't success unless I feel healthy and happy. Checking out so that I could check in with myself reassured me that those priorities are still intact.