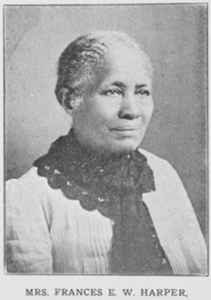 Frances Ellen Watkins Harper (1825-1911) was one of the most important black woman activist-authors of the nineteenth century—easily as prominent as Frederick Douglass. When many rejected the notion that African Americans should be anything other than slaves and opposed the idea of women speaking in public, Watkins Harper was an antislavery lecturer appreciated by significant crowds and by colleagues such as Douglass, William Lloyd Garrison, William Still, Susan B. Anthony, and Elizabeth Cady Stanton. In the first six weeks of the fall of 1854, she traveled to 20 cities and gave at least 31 lectures. That same year, she published Poems on Miscellaneous Subjects, which sold more than 10,000 copies, was enlarged and reissued within 3 years, and enjoyed at least 20 reprintings in her lifetime. After having written three serialized novels, she released her most famous novel, Iola Leroy, when she was 67 years old, and it was reprinted four times in four years. How could such a powerful orator and prolific writer fade from American memory?
It certainly is not because she did not work hard or failed to command respect from those exposed to her work. As a Unitarian who was also quite active in the AME church, she felt a tremendous duty to steer the United States toward greater justice. When her demanding travel schedule tested the limits of her health, she admitted to friends in letters how difficult it was, but she persisted! Meanwhile, she also seemed to anticipate the possible erasure of her labor as well as its likely causes. In an 1866 speech, she shared that, as soon as her husband died, authorities "swept the very milk-crocks and wash tubs from my hands," depriving her of the means to support her children. She ended this story with, "I say, then, that justice is not fulfilled so long as woman is unequal before the law" (311). Thus, Harper understood that women could be denied the resources needed to work.
As important, Harper understood that even when women created a work life despite meager resources, the politics of recognition unjustly obscured their contributions. In an 1878 article titled "Colored Women of America," she was unequivocal: "The women as a class are quite equal to the men in energy and executive ability. In fact I find by close observation, that the mothers are the levers which move in education. The men talk about it, especially about election time, if they want an office for self or their candidate, but the women work most for it" (315).
Harper's public career was most active from the 1850s to the 1890s, an impressive 50 years. She was at the forefront of movements for abolition, public education, temperance, and voting rights. And she did this work through leadership positions within black women's organizations, such as the National Association of Colored Women (NACW). At the same time, she was one of the most prominent black women in predominantly white organizations, such as the Woman's Christian Temperance Union (WCTU)—despite the racism she faced.
In short, Harper's life and work exemplify the tradition among black women to engage in justice-oriented activism not only while encountering hostility but also whether or not they receive the recognition that seem to flow to their black male and white woman colleagues.
Besides having spoken plainly about black women's labor in speeches and essays, Harper made the pursuit of meaningful work a major theme in Iola Leroy so that her protagonist's journey Is not dominated by the marriage proposals she received. Harper's novel therefore imagined more space not only for black women's labor but also for its recognition. Frances E. W. Harper understood the forces that might conspire to diminish her contributions, and she left evidence that she did not simply capitulate to those (admittedly quite powerful and enduring) forces.
The new Broadview edition of Iola Leroy honors this aspect of its author's legacy… and so much more. For more details, please visit https://broadviewpress.com/product/iola-leroy/#tab-description