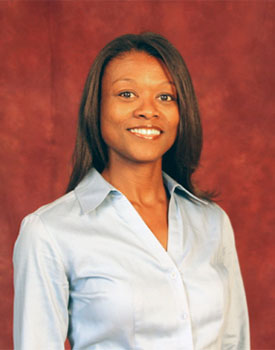 Koritha Mitchell, PhD (Koritha sounds like Aretha) is an award-winning author, cultural critic, and professional development expert. Her study Living with Lynching: African American Lynching Plays, Performance, and Citizenship, 1890 -1930 won book awards from the American Theatre and Drama Society and from the Society for the Study of American Women Writers. Her scholarly articles include "James Baldwin, Performance Theorist, Sings the Blues for Mister Charlie," which appears in American Quarterly, and "Love in Action," which draws parallels between racial violence at the last turn of the century and anti-LGBT violence today (published by Callaloo). In March 2014, Koritha spoke at the Library of Congress and received a Certificate of Congressional Recognition. The lecture aired on C-Span's BookTV and is part of their online video library.
Koritha's professional development expertise has long been recognized. She has been invited to offer guidance to scholars at every stage of their careers by various types of institutions, including the Ford Foundation, the American Society for Theatre Research (ASTR), Lehigh University, Kenyon College, and Vanderbilt University. She curated a slate of 9 to 15 professional development workshops for ASTR's 2011, 2012, and 2013 annual conferences, and she is a regional liaison for Ford Fellows, with primary mentoring responsibility for scholars in Ohio, West Virginia, and Western Pennsylvania. In addition to serving as external reviewer for tenure dossiers, she has chaired and/or served on committees to select the winners of postdoctoral fellowships, essay awards, and book awards. She has also mentored professors who earned research support from the Woodrow Wilson National Fellowship Foundation.
As the first in her family to attend college, Koritha understands that the knowledge needed to succeed in various environments may seem like common sense, but it is anything but natural and self-evident. She enjoys equipping audiences with information that will demystify the challenges they may encounter, including college, graduate study, and/or scholarly publishing. Currently an associate professor of English at Ohio State University, Koritha grew up near Houston, Texas; earned her BA from Ohio Wesleyan University; and earned her MA and PhD at the University of Maryland-College Park.
Koritha also founded the Columbus, Ohio, chapter of Black Girls RUN!, a national organization encouraging women to make fitness and healthy living a priority.